Music
St Michael's Organ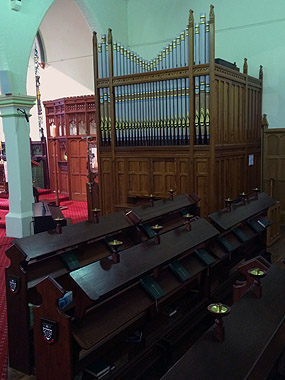 The Organ of St Michael's, Mitcham, is one of the oldest pipe organs still operating in South Australia today, enhancing further, the heritage aspect of the church fabric. It was built by the British firm of J.C Bishop and Son before 1877, installed, and first used in service at St Michael's in 1878. From 1994-5 the organ underwent a thorough restoration and authentic expansion by South Australian organ builder, George Stephens. The organ has retained its mechanical tracker action, and between its two manuals and pedal board, has an effective chorus of flute, string and reed stops, making it a versatile instrument not only for accompanying church congregational singing and choir work, but also for recitals. The organ is regularly tuned and maintained, enabling the continued reliable service it has given for nearly 150 years.

For the organ's Specifications see more….

Refurbished Organ Specification 1995 : (Bracketed numbers refer to notes below.)

GREAT
Open Diapason 8 (1), Clarabella 8 (1),Dulciana 8 (1)(2), Principal 4, Fifteenth, 2, Mixture III (3)

SWELL
Gamba 8, Gedackt 8, Principal 4, Trumpet 8 (4), Oboe 8 (2),

PEDAL
Bourdon 16, Violoncello 8 (5)

COUPLERS
Swell to Great; Swell to Pedal; Great to Pedal

TREMULANT
Balanced Swell Pedal
3 Combination Pedals to Great.
Two Combination Pedals to Swell

(1) Common bass 7 notes controlled by stop knob "Stopped Bass".
(2) New pipework (1995) copied from Bishop & Son organ at St Augustine's, Unley 1877
(3) A new 3 rank mixture 17, 19, 22. Pipes of spotted metal, copied in composition and scale of pipes from 1848 J.C.
Bishop organ at Fernlyhalgh, Lancashire, U.K.
(4) New stop copied from the Great Trumpet of Bishop & Son organ, St Augustine's, Unley.
(5) New stop copied from the Pedal at St Augustine's, Unley.