Funerals at St Michael's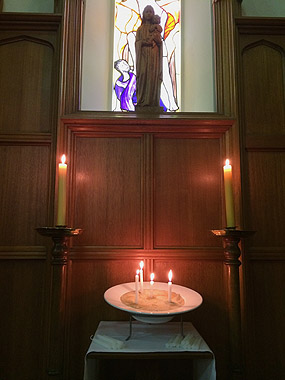 The loss of a loved one is always a difficult time as we grieve and give thanks for the joy that that person has brought to our lives. As in baptism, we are made one in Christ, so too in death, we are joined with Christ in eternal life.
Several types of funeral services are available at St Michael's or can be conducted by the parish priest at another location. These services follow the Anglican liturgy and are individualised in accordance with the deceased and/or family's wishes.
Frequently asked questions
Do I or my loved one have to be a member of the Church to have a funeral service at St Michael's or by its priest?
The Church is available for anyone wanting to have a Christian burial. The parish priest will conduct a Christian funeral service at other locations by arrangement.
Can I or my loved one be buried at St Michael's?
No, however, there is a memorial garden available in which ashes can be placed and a plaque placed on the memorial path.
Does St Michael's have an area available for a gathering afterwards?
Yes, St Michael's has the hall. Catering can also be arranged through the parish at a set cost.
Can I prearrange my funeral service?
The parish priest is more than happy to meet with you to make arrangements for your funeral service. This is often of enormous benefit to your family in a time of grief.
More information
For further information or to make arrangements or receive pastoral care at this time of grief, please contact Fr David.